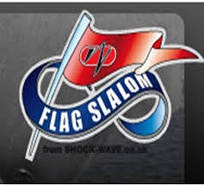 Flag Slalom Water Skiing

Welcome to Flag Slalom

Competition Slalom Skiing - Anywhere!

And before we say more, nothing is for sale here - this website is being developed to promote a simple method of competitive recreational water-skiing.

In a nut-shell the advantages and benefits of Flag Slalom are;

* It can be done anywhere - Flag Slalom can be done on any stretch of water you can ski on
* It's easy - Whether you have just learned to get up on skis today - or whether you are a tournament skier already, you can enjoy Flag Slalom
* It turns a great hobby into a great sport
* It can be a great training aid for tournament skiers

Flag Slalom gives skiers an easy method of competing against each other, without the need for any sort of slalom course.